AZUL's astonishing experience with EFBOne
Azul Linhas Aéreas Brasileiras is one of the biggest players in the sky of Southern America and the biggest airline in Brazil. With more than 150 tails in the fleet, they fly to 154 destinations worldwide. In 2021 Azul started its paperless journey with EFBOne, and in this video, you can see the fantastic feedback from them during the project implementation.
"The paperless project is nothing more than getting rid of all papers on board all our aircraft. Today it's already with the 330 and 320 they are 100% equipped and certified with an iPad, so there's almost no paper on board. It's working with ATR Fleet and EMBRAER Fleet, and also the 737.
As you can see, this is a huge task that we're doing not just for this area but also for many other areas in Azul. It's a very nice project, and we will talk a little more about phase 2 of this project. That is moving all the necessary documentation onboard the aircraft like the load sheet, flight plan, and other documents also, to the iPad." says Guilherme Holtmann, Flight/ Cabin standards & Training General Manager of Azul.
The choice of IFS
Azul Linhas Aéreas Brasileiras signed a contract with International Flight Support in 2021. In the video Cop Dezontini, Coordinator of flight Standards, says:" I will tell you about how we built the app in partnership with our IT team and IFS. Two years ago, we went on the market to find a partnership, and we found IFS. This company developed a super cool application for us. IFS is based in Denmark, with a long history in e-Briefing solutions for our pilots.
In addition, there is the navigation log, and we already have a prototype for a future e-Log."
User experience
In the video, a fleet commander of 320, Larisa, says:
She continues: "In preparation for our flight and also during our briefings is a tool that will have all the needed documentation in a single application It will also help in doing our job a little bit more practically. For example, access to airport briefings related to the airport or airports that we are operating on that route on that day. I really loved the app."
Join the future with IFS
Are you inspired by the amazing story of Azul? Join the EFBOne paperless heroes here. We provide airlines with a digital platform where customers can mix&match their flight operation needs in one place. We offer Base Module, Document Library, and Mass & Balance Modules. Additionally, we integrate with 25+ leading aviation software. All you need- in one app.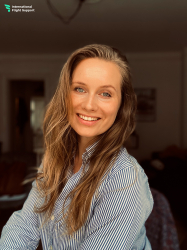 Latest posts by Sandra Daukste
(see all)